I met Adam in the first grade at Our Lady of Lourdes. For those of you who may not know me my name is Chris Witt; or as Adam would call me, "Witter" or "Manchild" which I became known as after moving in with Adam and Julie four years ago.
I talked to Adam, maybe, five times a year on the phone, and after a few minutes he would always say we should hang up so we have something to talk about when I get there. This might be more than five minutes, but after being friends for 29 years, there are a lot of memories to be shared.
My earliest memories of Adam began around the fourth grade when I was still reading the boxcar children books. He showed up to school with the new book he checked out from the library by Stephen King. I remember thinking that was pretty cool. I had my mom take me to the library and I checked out my own Stephen king book. After about 50 pages and a few nights of nightmares, I hung it up and left it to Adam to tell me what each book was about as he cycled through them.
I remember our first sleepovers, playing pool in his basement and Adam showing me his wrestling ring and all of his action figures. What stands out most about our earliest of memories, was getting dropped off at his grandma's farm with BB guns and walking around trying to shoot pigeons. I doubt we got any but regardless we found a common interest in hunting which became a big part of our friendship.
As we started high school, our friendship grew. I remember one Friday night we didn't have anything to do. Adam and I sat on a park bench in town and hung out until we figured out what we should do next. We would laugh at the same ten cars driving across town and wait for them to come back once they reached the city limits. I think we called it "park benching", so for the next few years it was the running joke when we couldn't figure out what to do on a Friday or Saturday night.
Adam was very wise for his age. In physics class, he knew that neither of us were any good at math, nor did we have much interest in physics. Adam would cleverly sit next to the smartest person in the class and made sure to chat him up so that we could copy his work when we needed to. It was also around this time, Adam figured out I was an easy target for a laugh. I would always be the butt of his jokes and it was impossible to be mad at him for it. From that point on, almost every conversation would turn into a way for him to make fun of me in some way.
Through the years I played football and baseball with Adam. In the tenth grade, we went to Thief River Falls which was at least a three hour drive. We found our seats next to each other on the bus like we always did, and then complained neither of us had any room. We swore the next time we would sit with someone smaller, which never happened.
It was toward the end of high school when our friends decided to build a fish house. I don't recall Adam ever putting a line down, but he was always there with us and the fish house became the weekend hangout spot. When it came time to take the fish house off the ice, Adam didn't want to miss out on an adventure so he tagged along. We started loading it up in the middle of the night, in the rain no less. Around midnight or so when things weren't going so well, I smarted off to Travis and He immediately tackled me onto the ice and I got completely soaked, Adam was laughing so hard he slipped on the ice and landed on a 2×4 we set under the fish house. By this time, we all started laughing uncontrollably. From that point on, Adam was always at the fish house, but always seemed to be busy when it was time to take it off the ice.
As luck would have it, I ended up being Adam's roommate for the last year he was in college. By this time he was coming into his own as a writer and would often proofread my papers for me. With the quality of my research, I am confident Adam was the reason I was able to graduate college. There were nights I would be studying in my room and Adam in his. After awhile, he would walk past my room and I would hear the beer fridge open. He would make his way back, stop in my room, set a beer down and then go back to his room. This would continue on for at least 3 to 4 more beers.
Listening to music and going to concerts was a huge part of our friendship. Somehow, Adam could always get tickets for any show he wanted to go to.  In all, we have been to shows in 6 states.  I can only guess we went to between 50 and 100 concerts However, I do know, in the last 16 years there have only been 5 concerts that I didn't go with Adam.
Adam's mom said he has always been a fan of music. When she would take him to polka shows, he would go up to the front so he could see what was going on. When we went to concerts, we would decide to stand in the back and watch the show. As soon as the intro music started we would look at each other and without saying a word make our way to the front of the crowd and then meet up at the end of the show.
When I took a job in St Paul, I called Adam and asked if I could stay at his place for a while until I found a place of my own. Without hesitation, he cleared it with Julie and told me I could stay in their basement for as long as I wanted. It wasn't long after I moved in that both Adam and Julie gave me the nickname of "Manchild". The three of us would sit in the living room laughing and talking. In the course of a few months Adam almost made me a basketball fan. That summer Adam got into riding bike, so Julie and I followed suit and got bikes too. We would ride down the trails and called ourselves a bike gang. Everyone knew when we were coming because Adam was always a half mile ahead of me and Julie on the trails.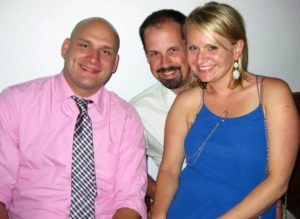 One of the few times Adam had ever taken a serious tone was when I was sitting next to him on the couch before a Packers game. I had already known they didn't like to watch the games with other people but Adam told me: "a lot of things can be forgiven between friends, but when it comes to the Packers, things aren't forgiven" I am pretty sure he was half joking but he never cracked a smile so I just assumed he was serious.
If you didn't know it, Adam was afraid of heights. One spring, he was at his in-laws for maple syrup cooking and DuWayne asked him to go up on the ladder to get some materials down. Adam, not wanting anyone to know he was scared of heights, went up there anyway. Julie laughed as she shared this story with me. Adam was very proud but also was also panicking at being up past the third step on the ladder.
Anyone that knows Adam, knows he loved 80's and 90's wrestling. I remember one time he was excited that a package had arrived at the front door. When he opened it, it was the latest collection of wrestling DVDs he had found online somewhere. For the next several days, he would come home from work and burn the cds and then back them up on his computer and finally catalog them into order. Every night before bed he would put a wrestling dvd in and watch it. I never got into wrestling, but I have never seen anyone who enjoyed a hobby so much and was so meticulous at collecting wrestling dvds.
Adam always called himself an "avid indoorsmen", but actually he was much much more than that. He loved every fall to go deer hunting and he would tell us about how his family would discuss strategy. We looked forward to tweets from the deer stand and his book reviews. It always seemed like he got his deer.
When we started our annual fishing trip, he figured he would come with and give it a shot. Adam mostly read and we came up with the nickname Paddington because of the hat he wore. Adam was content just being with all the guys. If it meant everyone getting together and hanging out, he was pretty much up for anything.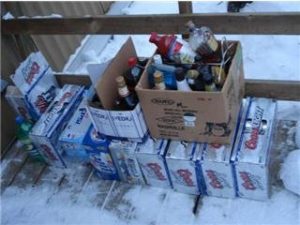 Looking back, Adam always made sure our group of friends didn't lose touch. A few years back, he decided we needed to start guys weekend, so we came down to his house and it became an annual tradition. Guys weekend wasn't enough so he came up with the idea of having meatfest, simply a day where everyone brought their favorite cut of meat. The point was that it was another excuse for everyone to get together. A day to eat meat, drink beer and hang out.
After they had Ed and Reggie, Adam was the proudest dad, but he never wanted to brag about it. When he would come over and bring Ed, you could see the glow and how proud he was. For Adam, he took pride in giving his boys their bath and reading bedtime stories. From time to time, we would get an email describing the various ways in which he was preparing Ed for his first Slayer concert. He would tell us how Ed would head bang and dance around the living room when slayer came on. He is definitely Adam's son. While Adam did not have as much time with Reggie, he took such pride in the moments he had with him.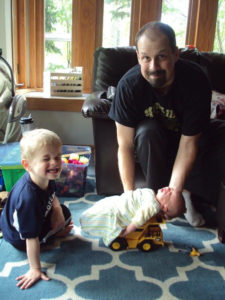 He was well read, knew the best places in town to get a bite to eat and was always on the lookout for the next hole in the wall place to check out. Even though he wore Slayer, Ghost or Mastodon shirts, he loved all types of music and would always be sure to tell me how terrible my latest favorite band was. On the other hand, Adam loved to look his best. When Adam started chemo, he wore his dress pants and button down shirt to infusions. When we would go trapshooting, Adam would have on a polo or nice button down and shorts while the rest of us had on old tshirts.
Adam was the type of person who had a love for life, and everything it had to offer. He gave 110% in everything he did. Material possessions were of little importance to him. Just being with Julie and the boys was enough with the occasional show, going out to eat or whatever event was taking place. One word Adam did not have in his vocabulary was no. No matter what you asked of him he was always willing to help out and didn't put it off.
He rarely spoke of the writing he did, in fact, the only time he ever told me about an article he wrote was when the I-35 bridge collapsed and he wrote about it. Other than that he wouldn't tell us or show us articles unless he was asked because he never wanted anyone to make a big fuss about him. It wasn't until recently that we found out he wrote for a Packer's blog.
I could count on one hand how many times a year I talked to him on the phone. He was always approachable and would talk with anyone but Adam truly spoke through his hands and a keyboard. Simply reading his emails were enough to make anyone a better writer. He was always concise and to the point and didn't use exclamation points or "that" when it wasn't appropriate. He was a very polite to everyone he came across, Always using please and thank you, especially to the nurses this last year. Adam always wanted to make sure everyone had a good time and was very considerate of what they enjoyed. Several weeks ago, I stopped by to visit and wrestling was on, and knowing I didn't care for it, he switched the channel even though I wouldn't have minded watching wrestling with him. That was Adam, always concerned for everyone else and not wanting anyone to fuss over him.
Adam's diagnosis didn't define him, and it certainly didn't define our friendship. What it did do was make me realize that aside from just being friends and going to concerts and whatever else we could find to pass the time, this person has been at my side through every up and down I have ever faced and I right there at his side. Adam knew everything about me and I knew everything about him. We have been friends for longer than I can recall. I came to realize there wasn't a day that we didn't exchange emails or text messages. Without talking on the phone we always knew what was going on in each other's lives. This last year was devastating for not only Adam, his wife, kids and family, but everyone he has touched in the 34 years he was with us.
In the last year I saw a man who didn't know what the future held for him, someone who was scared, hopeful, uncertain, brave, courageous and above all determined that he would come out on top. Even with every setback, he was still Adam. He would send the usual texts, joke around and was still there to help when asked. Adam was the strongest, most courageous person I have ever met, he didn't lose the fight, his body gave up well before his determination gave in.
While each of us hold a special place in our hearts for Adam, this was just my Adam story. We each have our own story to tell about a person who we may have recently met, or known most of our lives, but the one thing we all have in common is that we were blessed with the opportunity to know one of the greatest, unique characters to have lived. As we all sit here with heavy hearts, wondering how we can move forward without such an amazing person, I look back and think about how lucky each of us were to have him be a part of our lives. The memories, gestures, personality and mannerism's will not be forgotten.
When you look at his two boys you see Adam through and through, but Adam will live on through those who knew him and they will have pictures and the stories that go with them. Even though Adam is gone, his children will know their father through each of us here and the memories we share.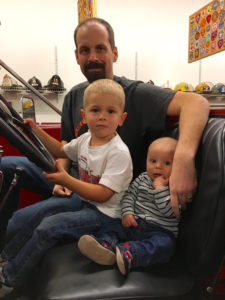 He fought a courageous battle, and while we may sit here and not know how to get through tomorrow, we will wake up and it will for lack of a better term, suck. The next day will probably suck too. But one day we will get up in the morning and take a baby step and it will hurt a little less, even though the next day might be a step backward, eventually we will start taking more steps forward than back.
The grieving process doesn't happen overnight, for some it takes years, but eventually we will all find a way to live our lives without someone who meant so much to us, while never forgetting what they meant to us. Adam may have left this earth, but he lives on in each of us and the memories we have of the time we spent with him. If you look around this church you will see we are not alone in our grief, we have Adam's Pack, just like Adam was always there for anyone he could help, We have each other to lean on, so no one needs to endure this pain alone.
I will leave you with a quote that seems poignant for both Adam and those he left behind: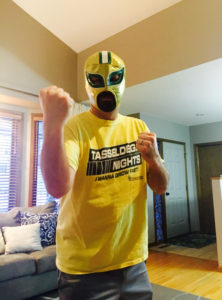 Reggie White once said "God places the heaviest burden on those who can carry its weight"

We now walk forward with that weight.