Choosing Happiness
Adam often comes through to me in songs and dreams. One of the most powerful ways he connects with me is when I am writing and a song comes on the radio. As I was writing to our sons about their daddy, the song Inner Demons by artist and songwriter Julia Brennan came on the radio.
Angels, angels please keep on fighting.
Keep on fighting.
Angels don't give up on me today.
Cause the demons; they are there.
They keep on fighting.
Inner demons just won't go away.
So angels please, hear my prayer.
Life is pain; life's not fair.
So angels please; please stay here.
Take the pain; take the fear.
Life isn't always fair. I feel like I have demons inside me some days, trying to drag me down. This song speaks to me on so many levels.
The fight for those "happy-sad" moments is a real battle some days. Fighting to choose happiness. Fighting to move forward in life and let go of some painful memories because all they do is stir up anger. Cancer stirs up anger.
This ongoing war within me leaves me exhausted.  I have learned to lean into my grief now and rest. I let the guilt go for resting and listen to my widow-sisters when they tell me resting is doing something. They remind me it is what I need to be doing in that moment.
Adam used to ask me, "What do you need to get done today? Nothing, just hang out with the boys. That's all you need to do." So I listen to him now and remember the only thing that matters is taking care of the boys, eating, and sleeping. Really, truly the basics.
Every morning, I have a choice to make. To smile and find a piece of happiness or let my grief steal these little moments with my sons. No matter how small that moment might be, I will always choose happiness. My friend took this picture of us three days after Adam died. Three days removed from us, I chose to find joy in this moment. 
Finding joy every day is not easy. Anger likes to creep in. The inner demons.
What would happen if I didn't let anger slide in at God for taking Adam from us and leaving me with a hard, lonely life some days?  What if instead, I looked at what God wants me to do now? What if I focused and prayed on what my purpose is in this next chapter of my life?
What if I stopped being angry at myself for not being the mother or woman I imagined myself being at 33 years old? What if instead, I allowed myself grace on the days that life is really, really hard? What if I truly acknowledged I have become a stronger, more confident and complete person in the wake of losing my best friend to cancer?
What if I focused within myself for happiness? What if instead, I learned to be fully content with what I've been given today? How would I feel if I embraced my imperfections and learned from them?
I have faith my life won't always feel this heavy. Letting go of the anger helps me heal and resolve the guilt. It is also realistic to know my grief will always be a companion. That is the price of true love with an incredible man.
Reflecting back now, I relied heavily on my late husband too often for happiness. I think we all do when we are in a relationship. As the years go by, you become dependent on each other.
Through my grief, I am learning to be more independent. I am finding new hobbies, like writing, and carving out time to do them. I am making myself a priority more then I ever have in my life and that is important. It is important for everyone, no matter where you are in life.
One evening, my friend was in a grumpy mood. I asked him to tell me what the best three things were in his day. I kept asking him to tell me two more things until he got to ten. I then added ten more things he could be thankful for. We had a good laugh when he said, "you just made me more grumpy by asking me all these questions!" I had violated my personal rule of "Sometimes it is okay to not be okay!"
This simple conversation made me think. I truly do wake up grateful every day. Now some days I do not wake up happy AND grateful, but I always wake up grateful.
Yes, always grateful.
Grateful for my sons, their health, and their smiles.
Grateful I woke up, for my health, and for those moments in the day when I laugh.
Happiness is a choice that starts within myself, that starts within everyone. My inner demons try to pull me back from moving forward in life and living a life Adam would want for me. Yes, some days it really is okay to "not be okay." This is reality.
But every day, I will wake up grateful. I will find a moment in my day, just one moment, to find something I am thankful for. It really is one of the easiest ways to turn my frown upside down.
All I need to do is look at my sons, Edward and Reginald.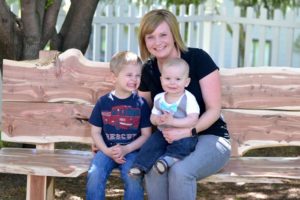 And I will choose happiness, every time. 
So angels please, hear my prayer.
Life is pain; life's not fair.
So angels please; please stay here.
Take the pain; take the fear.